News
(3/21/02, 3 p.m. ET) -- Billy Corgan of the Smashing Pumpkins has been added to the bill for the fourth annual Waltz benefit concert taking place in Chicago Saturday night (March 23). Corgan joins previously announced performers Steve Earle, Ronnie Spector, Wilco's John Stirratt, former Pumpkins drummer Jimmy Chamberlin (who now drums for Corgan's new band Zwan), Sonia Dada, Alejandro Escovedo, Graham Parker, Ivan Neville, Sonny Landreth, Kelly Hogan, the Mekons's Jon Langford, Ken Nordine, David Amram, and Nicholas Tremulis and his band at the Chicago club Metro.
Ronnie Spector told LAUNCH she's looking forward to being on the bill with such a wide array of artists. Although she was hesitant to disclose specifically what she'd be performing at the concert, she told she would be singing "something old, something new... Rock and roll, of course," she adds. "I don't think I would ever not sing 'Be My Baby,' so I just gave that away... 'cause I love the song and I never get tired of it and it's a great song for all ages, you know?"
Proceeds from the event will benefit Heartland Alliance's Neon Street, an organization that "helps homeless and at-risk teens become healthy adults."
(3/1/02, 10 a.m. ET) -- Former Smashing Pumpkins leader Billy Corgan, Marilyn Manson, Static-X, and Motorhead are the latest additions to the forthcoming Ramones tribute album, now titled We're A Happy Family.
Corgan will sing "I Want You Around," Manson is set for "The KKK Took My Baby Away," Static-X will cover "Gimme Gimme Shock Treatment," and Motorhead will do a version of "Rockaway Beach." The project is being helmed by Rob Zombie.
Already announced were tracks from the Offspring, Green Day, Rob Zombie, and Eddie Vedder. So far, Zombie recorded "Blitzkrieg Bop," Vedder laid down "I Believe In Miracles," the Red Hot Chili Peppers contributed "Havana Affair," Offspring pumped out "I Wanna Be Sedated," Green Day recorded "Outsider," and Rancid tracked "Sheena Is A Punk Rocker."
We're A Happy Family is set for a late spring release.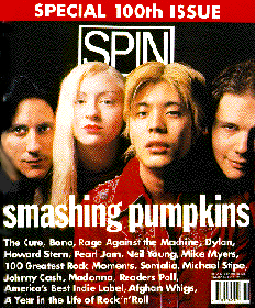 FAQS
Billy Corgan
Bio
Born March 17, 1967, grew up in a Chicago Suburb
Element in the band - lead singer/frontman
plays practically every instrument, mostly lead guitar
Currently has been working on a solo album
James Iha
Bio
Born March 26, 1968, born in Chicago, Illinois
Element in the band - Rhythm guitar/background singer
Currently working on his second solo album and co-owns a record company with D'arcy.
D'arcy Wretzky-Brown
Bio
Born May 1, 1968, born in South Haven, Michigan
Element in the band - Bassist, background vocals and lead vocals
Currently co-owns a record company with James, and has left to pursue other interests
Jimmy Chamberlin
Bio
Born June 10, 1964, in Chicago, Illinois
Element in the band - Drummer
Currently playing in his new band.

Melissa Auf der Maur
Bio
Born March 17, 1972, in Montreal, Quebec
Element in the band - Touring Bassist, background vocals
Was a member of the band Hole. Was part of SP when D'arcy was convictied of drug possesion.
Although lumped right in with the early-'90s "alternative" music genre, Chicago's Smashing Pumpkins have proven the antithesis to the D.I.Y./indie ethos, with the often-bombastic production and overblown-ness of works like their 140-minute, string-laden Mellon Collie And The Infinite Sadness (certified platinum eight times over). The brainchild of singer/guitarist/producer Billy Corgan, the Pumpkins are currently one of the most popular rock acts in America.
The band, at the time consisting of Corgan, bassist D'Arcy Wretzky (the blonde object of many an indie-boy crush), guitarist James Iha and drummer Jimmy Chamberlin, became well-known after their 1991 debut, Gish--although Corgan actually played most of the instruments on this, as well as on their other releases. Their next album, 1993's Siamese Dream, on major label Virgin, propelled the band into superstar status by selling over four million copies, and, the following year, they nabbed the top spot at Lollapalooza after planned headliners Nirvana dropped out. The band's only personnel change took place in 1996, when longtime drug user Chamberlin was fired after he was found with touring keyboardist Jonathan Melvoin when the latter fatally overdosed. Chamberlin's replacement was Matt Walker, formerly of Filter.
Corgan has claimed that Mellon will be the last Pumpkins album with their signature guitar sound, and that they will be heading into a more electronic direction--which isn't contradicted by his synthy solo track on the Lost Highway soundtrack, "Eye." In mid-'97, the Smashing Pumpkins have a featured track, "The End Is The Beginning Of The End," on the Batman & Robin soundtrack.





Music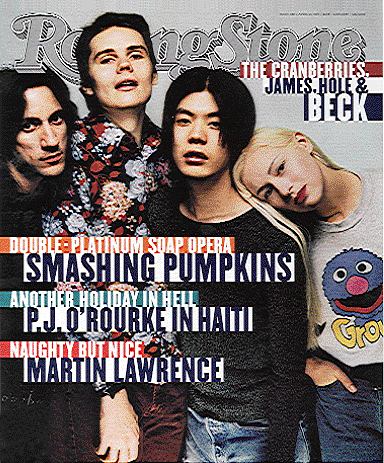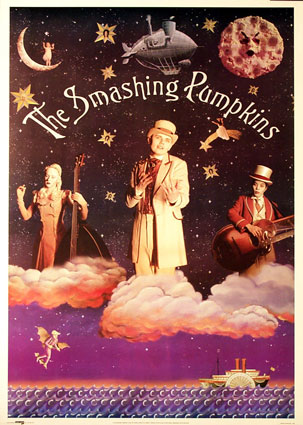 I wonder how it would be if Homer was the lead...